𝐏𝐨𝐩𝐮𝐥𝐚𝐫
ღ
ཧ
༻
༺
ཛ
༱
ཀ
༭
ཌ
༮
༽
༼
ཞ
༗
༆
༄
༒
๓
๒
࿐
࿑
ჯ
Ꮻ
ᕕ
ᖭ
ᖫ
ᚸ
ᛃ
៚
†
‡
‿
⁔
⁂
⃟
⃞
₹
↝
↭
↬
↯
⇒
⇐
⇑
⇝
⇜
≛
≋
≪
≫
⑉
╭
╯
╮
╰
≼
≽
⏤
%
▂
⊰
⊱
⋉
⋊
⍣
⍟
⦕
⦖
₰
™
●
☄
☪
☬
☫
☮
☻
♱
⚘
⚜
⚚
⚕
✓
❦
➺
⦉
⦊
⧼
⧽
『
』
〘
〙
々
〆
Ꙫ
꧁
꧂
﴾
﴿
⦅
⦆
ン
ミ
ノ
ヅ
𝐉𝐚𝐩𝐚𝐧𝐞𝐬𝐞 𝐒𝐲𝐦𝐛𝐨𝐥𝐬
ぅ
う
ぃ
い
ぁ
あ
き
ぎ
く
ぐ
ぇ
え
け
げ
ぉ
お
こ
ご
か
が
さ
ざ
し
じ
す
ず
た
だ
ち
ぢ
せ
ぜ
っ
つ
づ
そ
ぞ
て
で
と
ど
な
に
ぬ
ね
の
は
ば
ひ
び
ぴ
ふ
ぶ
ぷ
へ
べ
ぺ
ほ
ぼ
ぽ
ま
゚
゛
゜
ゝ
ゞ
ゟ
ァ
ア
ィ
イ
ォ
オ
キ
ギ
ク
グ
シ
ジ
ス
ズ
ソ
ゾ
ッ
ツ
ヅ
ニ
゠
ノ
ハ
バ
パ
フ
ブ
プ
ヘ
ベ
ペ
ホ
ボ
ポ
ミ
ム
メ
ロ
ヰ
ヸ
ン
・
ヾ
ヽ
ー
ヿ
㍿
㍐
𝐂𝐡𝐢𝐧𝐞𝐬𝐞 𝐒𝐲𝐦𝐛𝐨𝐥𝐬
㊊
㊋
㊌
㊍
㊎
㊏
㊐
㊑
㊒
㊓
㊔
㊕
㊖
㊗
㊘
㊙
㊚
㊛
㊜
㊝
㊞
㊟
㊠
㊠
㊡
㊢
㊣
㊤
㊥
㊦
㊧
㊨
㊩
㊪
㊫
㊬
㊭
㊮
㊯
㊰
𝐂𝐮𝐫𝐫𝐞𝐧𝐜𝐲 𝐒𝐲𝐦𝐛𝐨𝐥𝐬 (𝐃𝐨𝐥𝐥𝐚𝐫, 𝐄𝐮𝐫𝐨, 𝐂𝐞𝐧𝐭)
$
✫
¢
€
£
¥
₮
৲
৳
௹
฿
៛
₠
₡
₢
₣
₤
₥
₦
₧
₹
₩
₪
₫
₭
₯
₰
₱
₲
₳
₴
₵
¥
﷼
₾
ɱ
𝐌𝐚𝐥𝐞, 𝐅𝐞𝐦𝐚𝐥𝐞, 𝐒𝐦𝐢𝐥𝐞𝐲 :)
유
웃
Ü
ü
ت
ﭢ
㋡
ヅ
ツ
☺
〠
㋛
ꑇ
ꐠ
ꐦ
ꐕ
ꌇ
ꈋ
ꆛ
ꃼ
☃
〲
〴
⍢
⍣
⍤
⍥
⍨
⍩
ὃ
ὕ
ὣ
Ѷ
Ӫ
ӫ
⚣
⚤
⚥
⚦
⚧
⚨
⚢
☿
♀
♂
𝐒𝐭𝐚𝐫 𝐒𝐲𝐦𝐛𝐨𝐥𝐬
✪
❋
✫
✡
✯
❇
☆
✬
✰
★
✲
۞
⍟
✦
❅
✧
✭
❊
✩
✵
✱
✴
✤
✣
✳
✲
✻
✹
✥
✢
✶
✷
✸
✽
❁
❃
❈
❂
❆
≛
⁂
ᕯ
𝐋𝐢𝐧𝐞 𝐒𝐲𝐦𝐛𝐨𝐥𝐬
━
─
╍
┅
┉
┈
╌
╏
╎
┇
┋
┆
┆
║
╴
╶
╸
╺
╼
╾
╽
╿
﹉
﹍
﹊
﹎
︲
╷
╻
╹
〡
╵
︳
︱
┃
│
⑆
⑇
⑈
⑉
〢
〣
≡
☰
☱
☲
☳
☴
☵
☶
✕
⑊
⑄
︴
﹏
﹌
﹋
╳
╲
╱
︶
︵
〵
〴
`
ᐟ
‐
⁃
⎯
〄
𝐆𝐫𝐞𝐞𝐤 𝐒𝐲𝐦𝐛𝐨𝐥𝐬
α
β
γ
δ
ε
ζ
η
θ
ι
κ
λ
μ
ν
ξ
ο
π
ρ
ς
σ
τ
υ
φ
χ
ψ
ω
Α
Β
Γ
Δ
Ε
Ζ
Η
Θ
Ι
Κ
Λ
Μ
Ν
Ξ
Ο
Π
Ρ
Σ
Τ
Υ
Φ
Χ
Ψ
Ω
𝐂𝐮𝐫𝐬𝐢𝐯𝐞 𝐋𝐞𝐭𝐭𝐞𝐫𝐬
𝓐
𝓑
𝓒
𝓓
𝓔
𝓕
𝓖
𝓗
𝓘
𝓙
𝓚
𝓛
𝓜
𝓝
𝓞
𝓟
𝓠
𝓡
𝓢
𝓣
𝓤
𝓥
𝓦
𝓧
𝓨
𝓩
𝓪
𝓫
𝓬
𝓭
𝓮
𝓯
𝓰
𝓱
𝓲
𝓳
𝓴
𝓵
𝓶
𝓷
𝓸
𝓹
𝓺
𝓻
𝓼
𝓽
𝓾
𝓿
𝔀
𝔁
𝔂
𝔃
𝐀𝐬𝐭𝐫𝐨𝐥𝐨𝐠𝐢𝐜𝐚𝐥 & 𝐙𝐨𝐝𝐢𝐚𝐜 𝐒𝐢𝐠𝐧 𝐒𝐲𝐦𝐛𝐨𝐥𝐬
☮
☸
☪
☤
☥
☨
☩
☫
☬
☭
☯
☽
✙
✚
✛
✜
✝
✞
✟
†
⊹
‡
♁
♆
❖
♅
✠
✡
✢
♅
卍
卐
☣
☦
𝐁𝐫𝐚𝐜𝐤𝐞𝐭 𝐒𝐲𝐦𝐛𝐨𝐥𝐬
〔
〕
【
】
〈
〉
『
』
《
》
「
」
︵
︶
𝐇𝐞𝐚𝐫𝐭
❤
❥
♥
♡
❣
❦
ლ
დ
۵
ღ
❤️️
💙
🧡
💚
💛
💜
🖤
💗
💓
💔
💟
💕
💖
❣️
💘
💝
💞
Aesthetic Symbols - Copy and Paste 999+ Symbols
Aesthetic symbols are some of the unique cool symbols that we use to generate aesthetic fonts or text. In particular, we use these symbols to create gaming fonts (Fortnite, Freefire, PUBG) or to create attractive posts on social media (Instagram, Facebook, Twitter). We also chat with these symbols to impress our loved ones. This website has provided some popular aesthetic symbols such as Japanese smiley faces, decorated lines, Chinese symbols, etc.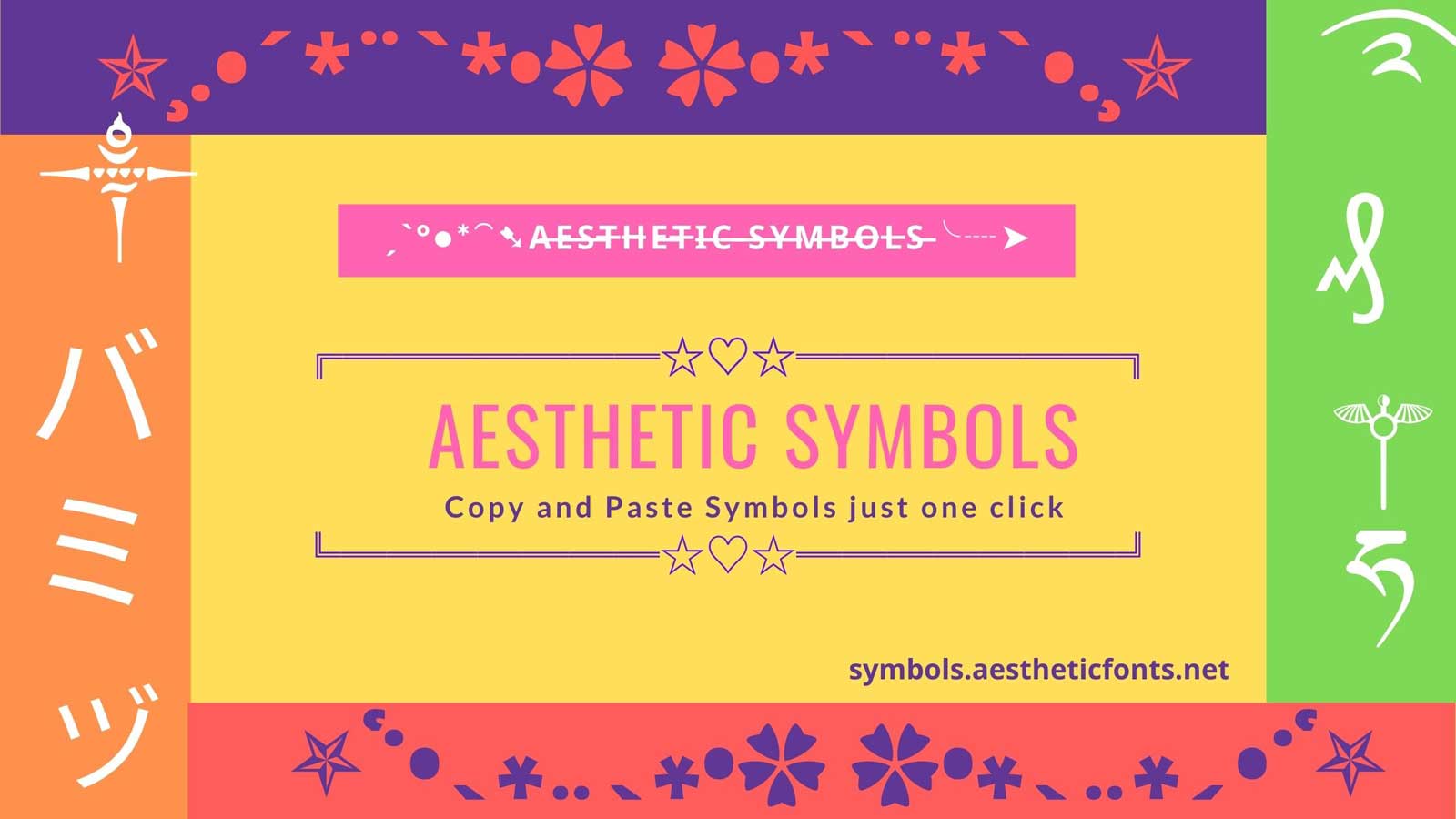 We have divided this aesthetic symbols web application into two parts, the main part where you can explore the symbols and in the second part, you can explore some of the designed aesthetic lines and frames.
Where can we use aesthetic symbols?
Aesthetic symbols are a kind of unique symbol that we use on social media, (Facebook, Instagram, Twitter) gaming profiles, (Fortnite, PUBG) blog titles and descriptions. The main reason for using these symbols is to attract users. We also use these symbols when chatting with loved ones.
Nowadays big companies use fancy text and aesthetic symbols in their advertisements to attract customers. You can copy and paste any symbol on our website for free wherever you want.
What kind of symbol does this site provide?
This website introduces you to the aesthetic and popular symbols of all the types of symbols we use. Symbols like Japanese, Chinese, Star, Bracket, Zodiac, Line etc. are highlighted here. Also presented here are some aesthetic designs through which you can create frames and aesthetic designs. Here you can use every symbol and design for free